Overview
The Exploring Service is designed for those who are just beginning to investigate Christianity or who are recently returning to faith. The service addresses topical themes and spiritual questions relevant to everyday life such as "Who is God?" and "How can I accomplish a more meaningful and more enjoyable life?"
The Exploring Service is held every Sunday at 11 a.m.
Click one of the buttons below to w

atch or listen to the latest message, view the entire series, review notes, share and access archived messages.
Latest Series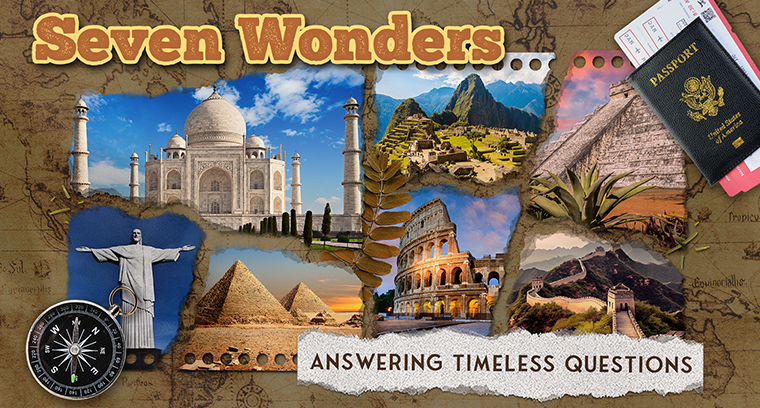 Seven Wonders
Throughout history, the world's major civilizations have constructed epic structures, ambitious feats of art and architecture. The greatest of these found their way onto a list called "The Seven Wonders of the World." Often, these projects were created by cultures seeking to understand eternal questions about God, our purpose, good & evil, and the afterlife. Even today, our curiosity drives us to pursue answers to the "wonders" of the world. Join Horizon at the 11 a.m. Exploring Service for Seven Wonders, as we explore life's timeless questions. The series runs Sept. 17th thru Oct. 29th.
9/17/2023, Chichén Itzá: Ever Wondered Why We Wonder?
9/24/2023, Colosseum: Why Does God Permit Injustice?
10/1/2023, Christ The Redeemer Statue: Does Jesus Create Followers With Open Arms?
10/8/2023, Taj Mahal: Is It Better To Have Loved And Lost?
10/15/2023, The Great Pyramid: Can We Prepare Or Defeat Death?
10/22/2023, Machu Picchu: Aren't All Religions The Same?
10/29/2023, The Great Wall Of China: Does Christianity Build Walls Between Different Religions?