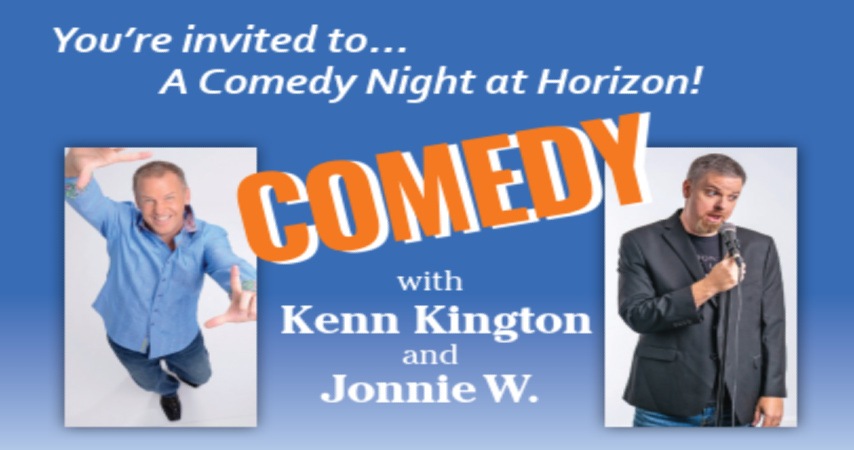 You're invited to...
A Comedy Night at Horizon!
Saturday, September 10th
Two Identical Comedy Sets
Seating One
Doors open at 5:15 with live music
Comedy from 6 - 7 p.m.
Seating Two
Doors open at 7:30 with live music
Comedy from 8:15 - 9:15 p.m.
Kenn Kington and Jonnie W. bring a unique brand of great, clean comedy without any side effects (no blushing, no cringing, no embarrassing situations), just life in its funniest form. Get ready for a laugh-out-loud evening!
Their utterly relatable humor will give everybody a side-splitting evening of laughter.
This is an opportunity to connect with others who attend Horizon. Or, welcome a friend for a great first experience at Horizon!
To register, click the link below or visit www.horizoncc.com/comedy.
Space is limited, so register today!
• Beer, wine, soft drinks and dessert will be served.
• Childcare by RSVP will be provided in E-Station for children infant through 4th grade. Please indicate when you register if you will need childcare.
• This is an adults-only event.
Kenn Kington is one of the most played comics on SiriusXM and has a new special on DryBar Comedy. He has six comedy specials that have aired on multiple cable networks nationally over the past few decades, including Comedy Central. Or check out his comedy routines on YouTube.
Jonnie W. Combining music and off-beat standup, Jonnie crafts a comedy experience that you will be quoting in the car on the way home. His award-winning comedy is played daily on Sirius XM and has been featured in WORLD Magazine.
Questions? Please contact John Kirby at 513 200-6464 or email at jkirby@horizoncc.com.
Event Details
Date:
Saturday, September 10
Time:
5:15 p.m. – 9:15 p.m.
Location:
Horizon Community Church Terrace
3950 Newtown Road
Cincinnati, OH 45244
Contact:
John Kirby

(513) 200-6464
Childcare:
Childcare is provided for infant through 4th grade. Please register for childcare using the link below.