Apr 16
Easter Celebration Service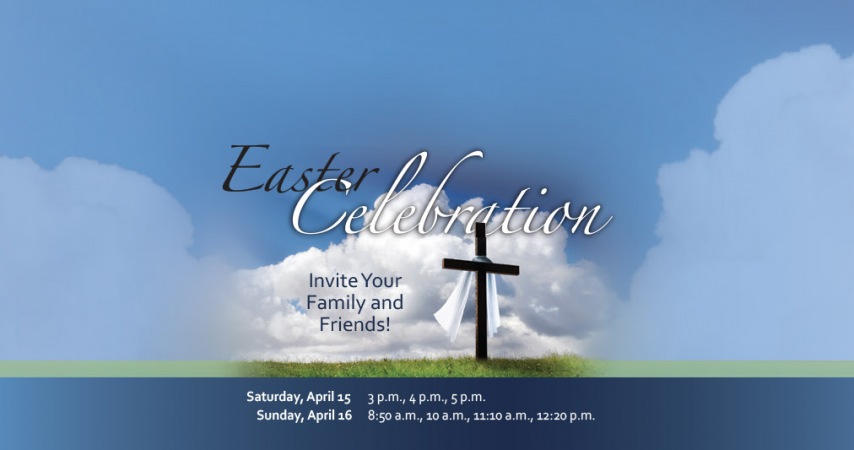 Join Horizon Community Church for an Easter Celebration! The 45-minute service will be a meaningful and triumphant celebration of Christ's resurrection, highlighted by music and reflection. Seven identical services will be offered on:
Saturday, April 15th at 3 p.m., 4 p.m. & 5 p.m.
Sunday, April 16th at 8:50 a.m., 10 a.m., 11:10 a.m. & 12:20 p.m.*
In order to manage attendance, each service will be a ticketed event. Tickets for all services are limited except for Sat. at 3 p.m. and 4 p.m. If you are in need of tickets for a service, please call Terry Larson at 513 272-5800 by Thursday, April 13th at 4 p.m. to discuss ticket availability. We will do our best to accommodate ticket requests while still managing the seating capacity in the Chapel.
After Thursday, any available tickets will be at the ticket table before and during services on Sat. and Sun. The ticket table will be located in the Atrium by the fireplace. If you plan to attend a service, but do not have tickets, please stop by the ticket table to determine if tickets are available for the service time you desire.
The Sunday brunch, for those that attend the12:20 p.m. service, is at full capacity at this time. For those that are registered for the brunch, please bring a printed or electronic copy of your email confirmation.
Children and student programming will not be offered during these services, but childcare for Pre-K and under will be offered in E-Station. Children and students should join their family for the Easter Service in the Chapel.
Please bring your tickets with you and arrive at least 20 minutes before your scheduled service time. Tickets are required to obtain a seat in the Chapel and seating for ticket holders is on a first come, first served basis. Tickets will be collected before you enter the Chapel. Services will also be shown on a video screen in the Hearth Room.
Please return all tickets you may not be using to Horizon by Friday, April 14th before 4 p.m. or bring these tickets with you on Easter to the ticket table. These tickets will be reallocated to others who may want to attend that service time but do not have tickets.
Invite your family and friends!
*A complimentary brunch will be offered for those that attend the 12:20 p.m. service. See your ticket for details.
Event Details
Date:
Sunday, April 16
Time:
8:50 a.m. – 9:35 a.m.
Location:
Horizon Community Church
3950 Newtown Road
Cincinnati, Ohio 45244
USA
Speaker:
Chad Hovind
Contact:
Terry Larson

513 272-5800
Childcare:
Pre-K and under in E-Station.