Jan 10
Horizon Women Present...Coincidental: More Than Happenstance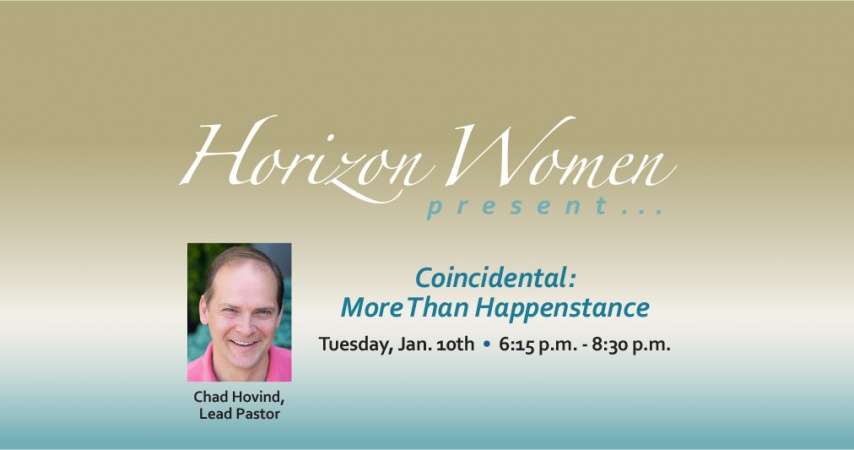 Horizon women and friends are invited to take part in an evening of connection and conversation. This event includes a delicious dinner immediately followed by an illuminating presentation by Lead Pastor, Chad Hovind.
Does life ever feel like a series of unconnected, disjointed, and confusing set of events? Esther, a woman of incredible authority and position in the Persian Empire, had a complex and difficult decision to make which threatened not only her position, but the lives of many of her friends. She comes to the realization that she has been positioned by God in her current role for a greater vision. She also discovers that God has been quietly working behind-the-scenes to bring about a grand plan in the midst of extremely confusing circumstances. Join Chad as he unravels the story of Esther and teaches you how to recognize God's grand plan for your life.
This evening is designed as a kick-off to the message series entitled Coincidental:Strategy for the Well-Played Life, which begins the third week of January at both the Equipping and Exploring Services.
Casual attire is the preferred style.
Invite a friend!
· RSVP by Thursday, Jan. 5th. Seating will be limited.
Event Details
Date:
Tuesday, January 10
Time:
6:15 p.m. – 8:30 p.m.
Location:
Horizon Community Church
3950 Newtown Road
Cincinnati, Ohio 45244
USA
Cost:
$25 per person includes materials, a catered dinner and wine.
Speaker:
Chad Hovind
Contact:
Carol Dunham

513 272-5800, ext. 244
Childcare:
Childcare is not offered for this event.