Overview
The Exploring Service is purposefully planned for people who might feel more at home in a theater or concert setting, where they can hear some tunes and have a bit of fun. The service uses down-to-earth teaching, upbeat music and creative media to explore relevant topics. It's an entertaining and comfortable hour where you can explore faith, while being intellectually and spiritually challenged.
Exploring Services are held on Sunday at 10 a.m. & 11:10 a.m.
Click one of the buttons below to listen to MP3s of the current Exploring Series.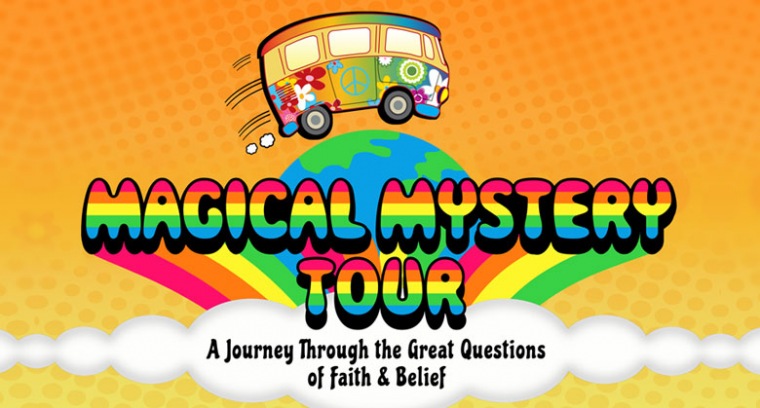 Magical Mystery Tour: Journey through the Great Questions of Belief
In the late 1960s, baby boomers came of age and wrestled with the status quo. They protested injustice, rallied for peace, and sought enlightenment. Yet here we are 50 years later, and exhausting conflicts and tough questions remain. Do gurus and mystics offer real answers? Aren't all religions basically the same? Can we truly find hope in violent times? Join Horizon for MAGICAL MYSTERY TOUR as we journey through the great questions of faith and belief.
| | |
| --- | --- |
| 4/23/2017 | God: A Magical Mystery? |
| 4/30/2017 | Eternity: I Can See For Miles and Miles |
| 5/7/2017 | Evil: Who'll Stop the Rain? |
| 5/14/2017 | CELEBRATING MOTHERS |
| 5/21/2017 | Human Dignity: What's Going On? |
| 5/28/2017 | The Bible: Who Are You? |
| 6/4/2017 | Temptation: Sympathy for the Devil? |
| 6/11/2017 | Christ: Jesus Is Just Alright? |
| 6/18/2017 | CELEBRATING FATHERS |
| 6/25/2017 | Tolerance: Put a Little Love in Your Heart? |